Children's Acrylic Canvas Painting- Family Art Fun-raiser Event for NCFASDInformed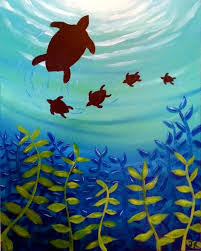 Children's Acrylic Canvas Painting- Family Art Fun-raiser Event for NCFASDInformed
Sat. Sept. 7th
12:30pm-1:30pm
Ages- 8yr- adult
Paint like you are swimming with the turtles under the sea! All participants will have fun learning to paint this tranquil under the sea acrylic painting with some step by step instruction. This class is geared for children but adults and teens are welcome and will equally enjoy the fun.
Families can create art, have fun and raise money for NCFASDInformed.
All materials provided. Wear paint clothes.
Must have a minimum of 5 participants registered by 9/ 5 to hold the class. Register early to reserve your seat!
September is Fetal Alcohol Spectrum Disorder Awareness Month. What is FASD? FASD (Fetal Alcohol Spectrum Disorder) is caused by prenatal alcohol exposure. FASD is a brain-based disorder with behavioral symptoms. It can result in a broad range of cognitive, behavioral, health, adaptive functioning, and learning difficulties. There also may be a significant number of comorbid physical and mental health conditions with an FASD.
NCFASDInformed was incorporated in January 2018. NCFASD Informed has received 501(c)(3) nonprofit tax exempt status. Based in Chapel Hill, North Carolina, we will strive to create FASD (Fetal Alcohol Spectrum Disorder) informed communities of parents, teachers, and health care professionals around North Carolina by increasing awareness around multiple issues.
The mission of our all volunteer, grassroots, nonprofit organization is to create FASD informed communities to empower individuals impacted by prenatal exposure to alcohol. Our vision: a world where individuals with FASD can thrive.
Learn more - https://www.ncfasdinformed.org